Robust Helicopter Data Connectivity
New airborne modem replaces expensive satellite links and microwave relays with 20Mbps data connection that flies up to 5500' AGL supporting smart aircraft missions.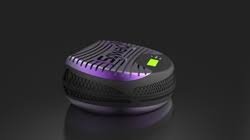 The SqwaQbox is a patented, mobile modem developed specifically for aircraft and combines six individual 3G/4G LTE cellular links into one large, multi-redundant data connection. The bandwidth is robust enough to stream two cameras simultaneously, with less than one second latency. This allows public safety ground responders to view aerial video in real time using their smartphones and tablets to better assess emergency situations. It can also transmit other data traffic like VoIP, email, Internet access, GPS and flight sensor data concurrently. This is the first airborne Internet device of its kind, designed and manufactured to DO-160 and AS9100 aviation safety standards, as well as cellular network approval for airborne LTE transmission.
Data connectivity for routine civilian flight operations is becoming a necessity today, but existing solutions have failed to meet the demands of many users. Satellite links are slow and expensive. Microwave links are geographically limited by expensive ground receivers that must be installed across a region. Common 4G/LTE routers are designed for terrestrial use and usually do not provide enough bandwidth, range, redundancy, operating altitude or reliability required by flight applications. 5G also fails because the signals only extend a few hundred feet from the towers and they cannot cope with the speeds that aircraft fly.